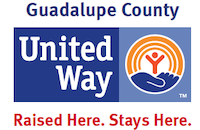 Guadalupe County United Way Covid-19 Emergent Needs Response Fund
GUADALUPE COUNTY COVID-19 RESPONSE FUND
We have established a fund to provide financial support to the citizens of Guadalupe County that are being hardest-hit due to work stoppage, reduced hours, closing of schools and daycare centers and to nonprofits in Guadalupe County for their extra-ordinary and unprecedented expenses related to Covid-19. Our social services nonprofits, which make up the core of our community safety net, provide for many basic needs, including food, clothing, and shelter (help with rent, mortgage, utilities). The fund we have created, Guadalupe County United Way Covid-19 Emergent Needs Response Fund, will provide microgrants to local nonprofits to help with these emergency expenses. The microgrants will be specific and for aiding Guadalupe County citizens with rent, mortgage payments, and utilities. Aid will be paid directly to landlords, mortgage companies, GVEC, and Seguin Utilities. The last thing we want is for one of our neighbors to be in danger of losing basic needs due to emergency measures being taken to help prevent the spread of COVID-19.
BECOMING A FUNDING PARTNER
If your organization is interested in becoming a funding partner, please reach out to Mary Hargrave at 830-372-9009 or via email at:info@guadalupeunitedway.org.
MAKING A DONATION
If you are interested in making a personal donation to help support our important local nonprofits, donate here. 100% of your donations will go to this important cause.
NONPROFIT PARTNERS APPLYING FOR FUNDING (each Grant has a max of $500)
Nonprofits looking to apply for funding can fill out this GCUW Coronavirus Grant App.pdf
Criteria to Qualify:
1. Your agency must be a 501(c)(3) organization.
2. Your agency must be in good standing with the State of Texas.
3. Your agency must serve a majority of your clients in Guadalupe County.
4. Individual MUST reside in Guadalupe County.
What happens with the money I donate?
When you give to the Guadalupe County United Way, you are investing in programs making changes right here at home. For a list of the area agencies that this United Way helps to fund, please click here.
In the spring, a committee of volunteers meets with the agencies requesting funding, reviewing their programs and deciding how to best invest your contributions.
Donate directly to United Way of Guadalupe County by cash, check, or a simple online donation through our PayPal account below. Gifts of stocks and bonds can also be accepted. Pledge forms are available at the United Way office.
If you are interested in starting a workplace campaign at your business, please call 830-372-9009 or email info@guadalupeunitedway.org for information and assistance.
Your gift has the power to change lives.