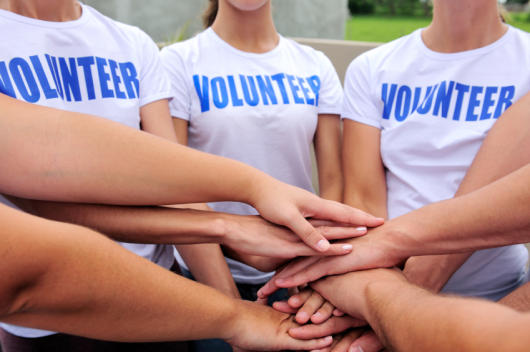 Volunteer
You can make a difference by volunteering at Guadalupe County United Way.
A committee of volunteers meets with the agencies requesting funding. These volunteers review each agency's programs and decide how to best invest your contributions. If you would like to be a part of the review process, call us today.

Humane Society Volunteers Needed
Title: Humane Policy Volunteer Leader
Description:
Do you want to help create a more humane society for all animals? Check out our Humane Policy Volunteer Leader opportunity!
Humane Policy Volunteer Leaders are at the forefront of our work to advance priority federal, state and local animal protection policies. These efforts serve to advance humane priorities across all 435 congressional districts and thousands of state legislative districts across the nation. Please join our team! To learn more, review our Humane Policy Volunteer Leader ad here: www.humanesociety.org/policyvolunteer
Humane Policy Volunteer Leader responsibilities:
Establish and maintain effective, professional relationships with government officials and encourage their support of the HSUS's priority animal protection positions.
Actively engage in federal, state and local policy advocacy, including submitting comments to federal and state agencies on proposed animal-related regulations, as well as letters to the editor in coordination with HSUS staff.
Work closely with your state director to serve as an ambassador for the HSUS by communicating our mission, approach and policies in order to foster a stronger and more visible animal protection presence in your community.
Participate in HSUS-facilitated webinars or meetings. If possible, participate in and assist with your state's Humane Lobby Day and/or local grassroots events.
Develop and implement a local animal protection project, preferably working with your city council or county board of supervisors to advance an HSUS priority ordinance or resolution in your community.
Encourage your networks to take action on HSUS alerts and priority policies. Recruit HSUS allies to continue expanding the diversity of our audiences, volunteers and the organization, and make the animal protection movement more inclusive for all.
Humane Policy Volunteer Leaders commit to taking actions as directed by HSUS program staff and their state director, averaging one to three hours per week for one year (weekly time may vary). Ongoing participation after the first year is preferred.
Benefits of becoming a Humane Policy Volunteer Leader
The Humane Policy Volunteer Leader program is the first, largest and most effective animal protection policy volunteer program of its kind in the nation. HSUS volunteers are essential partners in our lifesaving work for all animals and are an integral part of this community of compassionate individuals, all of whom are deeply committed to advancing humane public policies for all animals.
Humane Policy Volunteer Leaders will become highly skilled in the rapidly growing animal protection movement, receiving advanced training and ongoing support. You will receive an orientation on our policies and programs as well as access to support and resources not provided to the public, including:
Volunteer toolkit and other resources on effective policy advocacy.
Regular virtual meetings conducted by your HSUS state director.
Monthly webinars on timely animal protection issues.
As a Humane Policy Volunteer Leader, you will develop skills in public policy advocacy, networking, leadership and strategic thinking, and have the opportunity to share your expertise and experiences with community members. You will gain a deeper understanding of how to be an effective animal advocate, gain in-depth knowledge about the HSUS's priority issues and deepen your understanding of the policy process and political landscape at the federal level, as well as in your specific state.
Apply Today!
If you've read the Humane Policy Volunteer Leader ad and feel the position would be a good fit for your skills and commitment level, here's how to take the next steps:
Please complete and submit your Humane Policy Volunteer Leader application. After clicking on the application link, click the red "Apply Now"' button in the top right corner.
After reviewing your application, a staff member will invite you to complete a user-friendly, digital interview. If we mutually determine that this opportunity is a good fit, you will be offered the volunteer position and asked to sign a volunteer agreement and waiver/release of liability.
If you would like to learn more or have questions about this volunteer program, please email us at policyvolunteer@humanesociety.org or call 301-721-6405.