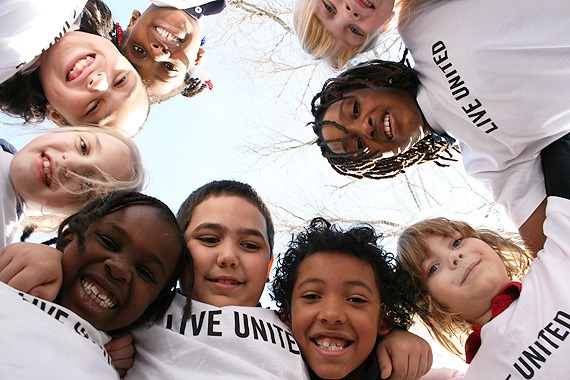 Mission Statement: To unite and focus community resources to serve the health and human service needs of the citizens of Guadalupe County.
At United Way, we strive to make our hometown a better place to live, work and raise a family. We raise funds that are distributed to local programs that can feed and cloth a family, teach a child to read, or support after-school activities. We are committed to laying the foundation for a better tomorrow. United Way is the largest private funding source for health and human service organizations in Guadalupe County. We support a variety of agencies whose programs help the disabled and elderly, strengthen families and reduce family violence, improve mental and physical health, and invest in the future of our children.
While we are affiliated with both the state and national service and training centers, the Guadalupe County United Way is a local organization, independent and separate from all other United Ways in the country. Our Board of Directors is made up of volunteers from this area.
Guadalupe County United Way provides information and referral services, as well as volunteer opportunities. We are familiar with the helping agencies in the community and can provide information - just call us at 830-491-7528.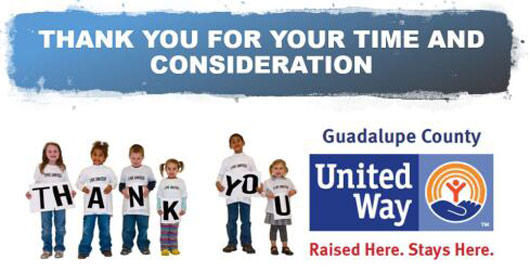 Fund Raising Campaign
Learn about the 41 Partner agencies Guadalupe County United Way, with your support, helps to fund each month. Each Agency has a tremendous impact on our community by providing food, clothing, shelter, counseling, prescriptions, cultural and historical education for and about our community, and so much more.
Guadalupe County United Way 2022 Campaign Video
YOU can make a difference!
Whether you give a little or a lot, YOU make a difference!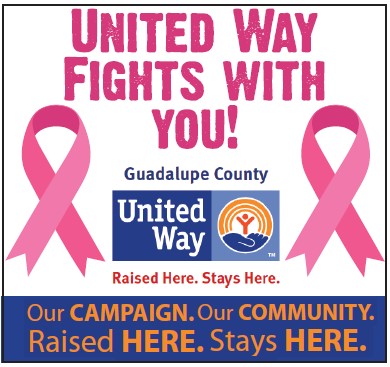 Breast Cancer Awareness 2022
Cancer is most treatable and beatable during its earliest stages. But how does a person detect cancer early, when he or she may not even realize cancer is present? There are a few steps to take.
Screening tests:
Scheduling screening tests for common cancers, even if there are no symptoms present, is an effective way to detect cancer in its early stages. The American Cancer Society recommends the following tests:
Breast cancer: Women between the ages of 40 and 44 can begin to schedule annual breast cancer screenings if they so choose. The ACS recommends women between the ages of 45 and 54 schedule annual screenings, after which mammograms can occur every two years.·
Colorectal cancer: Regular screenings for colorectalcancers can begin at age 45 with stool-based or visualexams that look for signs of cancer.·
Cervical cancer: This cancer screening should begin at age 25 and continue until women are 65. Pap tests and human papillomavirus tests are recommended at various intervals, typically between three and five years for healthy women.
Skin cancer: All people regardless of age are advised to check their skin regularly for any changes that may indicate the presence of skin cancer.
Screenings for prostate cancer, lung cancer, endometrial cancer, and some others may be important for those with a family history of these cancers or those who are at higher risk due to various behaviors. People are urged to speak with their physicians about cancer screenings and any additional steps they can take to lower their risk for cancer.
Looking for microvesticles:
To detect cancers earlier, doctors may employ bloodtests that examine the presence of microvesticles inthe blood. Harvard Medical School says cells shed microvesticles, but the amount shed by tumors is substantial.However, finding these very small particles requires a powerful device and complicated lab process.Newer innovations at the Center for Systems Biology at Massachusetts General Hospital have led to the development of a handheld device that uses a nanotechnology sensor to detect tumor microvesticles in a drop of blood in roughly two hours. This technology has the potential to diagnose cancer much earlier, according to Dr. Ralph Weissleder, director of the center and developerof the technology.
Feeling "off " :
Individuals are their best advocates for early cancer detection. Any symptom that is out of the ordinary and persists should be treated as a red flag. Lumps, pains, the presence of blood in stool or urine, persistent coughs,fatigue, abnormal vaginal discharge, sores that do not heal, and a loss of appetite all could be early signs of cancer. People are urged to schedule appointments with their primary care doctors to discuss any abnormalities.As cancer spreads, it can affect the effectiveness of treatment. This also may affect chances of survival. Theearlier one detects cancer, the greater his or her chances of surviving the disease.
Racial Equity Statement
WE BELIEVE IN EQUITY. IN SOCIAL JUSTICE. IN SAFETY. WE KNOW OUR COMMUNITY IS FAR FROM BEING EQUITABLE, SOCIALLY JUST, OR SAFE FOR ALL. WE CANNOT HAVE A THRIVING COMMUNITY UNTIL RACIAL EQUITY AND JUSTICE ARE ACHIEVED.
RACISM HAS NO PLACE IN OUR REGION. WE MUST WORK TOGETHER TO END SYSTEMIC RACISM AND DISCRIMINATION. NO ONE ORGANIZATION OR INDIVIDUAL CAN DO IT ALONE.
GUADALUPE COUNTY UNITED WAY CONNECTS RESOURCES WITH NEEDS, AND PEOPLE WITH ACTION. WE WILL CONTINUE TO WORK TIRELESSLY TO ADDRESS DISPARITIES AND INCREASE OPPORTUNITIES BY FUNDING PARTNERS THAT IMPROVE HEALTH, EDUCATION AND ECONOMIC MOBILITY FOR PEOPLE ACROSS OUR REGION. WE UPHOLD FAIRNESS, JUSTICE AND DIVERSITY IN ALL INTERACTIONS, ACTIVITIES, POLICIES, AND PROCEDURES. WE SEEK TO DISMANTLE SYSTEMIC, INSTITUTIONAL, AND HISTORICAL INEQUITIES FOR ALL.
WE STAND FIRM IN OUR COMMITMENT TO MAKE OUR COMMUNITY EQUITABLE AND JUST.
Diversity & Inclusion Statement
The Guadalupe County United Way recognizes diversity and inclusion as core values that are critical success factors in achieving United Way's mission.
To value diversity is to respect and appreciate race, religion, skin color, gender, nationality, language differences, sexual orientation, gender identity, physical, mental and developmental abilities, age, socioeconomic status, work and behavioral styles, parental status and the perspectives of each individual shaped by their nation, culture and experiences. To be inclusive is to leverage diversity by bringing together unique individual backgrounds to collectively and more effectively address the issues facing our communities.
Diversity and inclusion are at the heart of what it means to live united and advance the common good.
The staff, Board of Directors, and volunteers of Guadalupe County United Way will value diversity and seek inclusion, as defined by this statement, in all aspects of this organization's operation, including Board membership, allocation decisions, and community development efforts.
This statement will be shared with all incoming Board members and also reviewed annually at the outset of the allocations process.