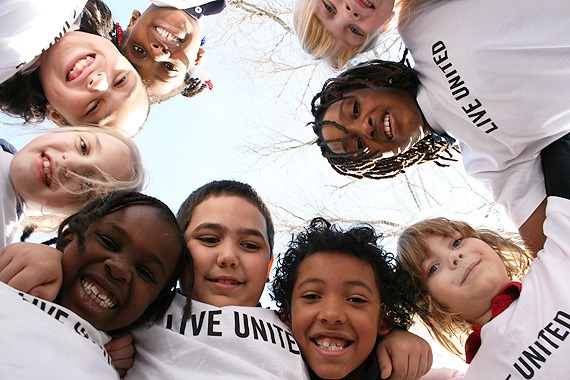 Mission Statement
Mission Statement: To unite and focus community resources to serve the health and human service needs of the citizens of Guadalupe County.
At United Way, we strive to make our hometown a better place to live, work and raise a family. We raise funds that are distributed to local programs that can feed and cloth a family, teach a child to read, or support after-school activities. We are committed to laying the foundation for a better tomorrow. United Way is the largest private funding source for health and human service organizations in Guadalupe County. We support a variety of agencies whose programs help the disabled and elderly, strengthen families and reduce family violence, improve mental and physical health, and invest in the future of our children.
While we are affiliated with both the state and national service and training centers, the Guadalupe County United Way is a local organization, independent and separate from all other United Ways in the country. Our Board of Directors is made up of volunteers from this area.
Guadalupe County United Way provides information and referral services, as well as volunteer opportunities. We are familiar with the helping agencies in the community and can provide information - just call us at 830-372-9009.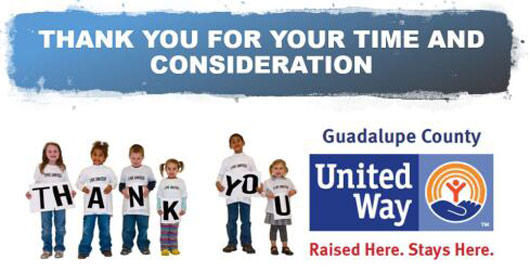 Fund Raising Campaign
Learn about the 41 Partner agencies Guadalupe County United Way, with your support, helps to fund each month. Each Agency has a tremendous impact on our community by providing food, clothing, shelter, counseling, prescriptions, cultural and historical education for and about our community, and so much more.
YOU can make a difference!
Whether you give a little or a lot, YOU make a difference!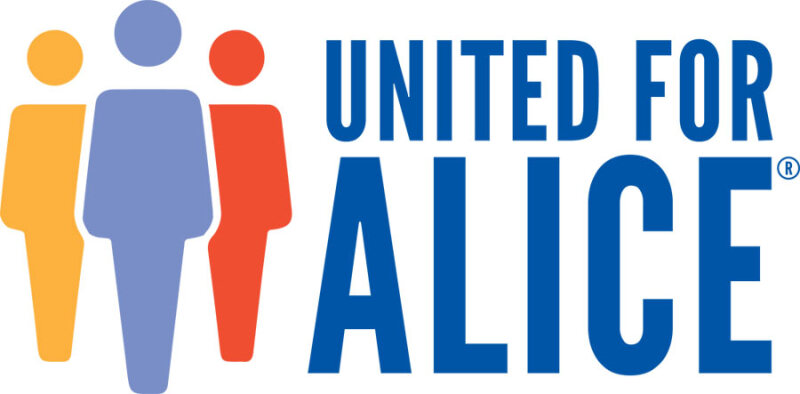 We all know people who are ALICE — Asset Limited, Income Constrained, Employed.In 2018, United Ways of Texas partnered with the United Way of Greater Houston to bring the ALICE report to Texas. ALICE, which stands for Asset Limited, Income Constrained, Employed, places a spotlight on a large population of hardworking people who work at low-paying jobs, have little or no savings — and are one emergency from falling into poverty. We wanted to bring awareness to the 44% of Texans that fall below the ALICE threshold. Through this report, we have allowed local communities to address the needs of this population by identifying who they are and how they struggle. We are proud to have released the updated ALICE report on September 4, 2020.
Racial Equity Statement
WE BELIEVE IN EQUITY. IN SOCIAL JUSTICE. IN SAFETY. WE KNOW OUR COMMUNITY IS FAR FROM BEING EQUITABLE, SOCIALLY JUST, OR SAFE FOR ALL. WE CANNOT HAVE A THRIVING COMMUNITY UNTIL RACIAL EQUITY AND JUSTICE ARE ACHIEVED.
RACISM HAS NO PLACE IN OUR REGION. WE MUST WORK TOGETHER TO END SYSTEMIC RACISM AND DISCRIMINATION. NO ONE ORGANIZATION OR INDIVIDUAL CAN DO IT ALONE.
GUADALUPE COUNTY UNITED WAY CONNECTS RESOURCES WITH NEEDS, AND PEOPLE WITH ACTION. WE WILL CONTINUE TO WORK TIRELESSLY TO ADDRESS DISPARITIES AND INCREASE OPPORTUNITIES BY FUNDING PARTNERS THAT IMPROVE HEALTH, EDUCATION AND ECONOMIC MOBILITY FOR PEOPLE ACROSS OUR REGION. WE UPHOLD FAIRNESS, JUSTICE AND DIVERSITY IN ALL INTERACTIONS, ACTIVITIES, POLICIES, AND PROCEDURES. WE SEEK TO DISMANTLE SYSTEMIC, INSTITUTIONAL, AND HISTORICAL INEQUITIES FOR ALL.
WE STAND FIRM IN OUR COMMITMENT TO MAKE OUR COMMUNITY EQUITABLE AND JUST.
Diversity & Inclusion Statement
The Guadalupe County United Way recognizes diversity and inclusion as core values that are critical success factors in achieving United Way's mission.
To value diversity is to respect and appreciate race, religion, skin color, gender, nationality, language differences, sexual orientation, gender identity, physical, mental and developmental abilities, age, socioeconomic status, work and behavioral styles, parental status and the perspectives of each individual shaped by their nation, culture and experiences. To be inclusive is to leverage diversity by bringing together unique individual backgrounds to collectively and more effectively address the issues facing our communities.
Diversity and inclusion are at the heart of what it means to live united and advance the common good.
The staff, Board of Directors, and volunteers of Guadalupe County United Way will value diversity and seek inclusion, as defined by this statement, in all aspects of this organization's operation, including Board membership, allocation decisions, and community development efforts.
This statement will be shared with all incoming Board members and also reviewed annually at the outset of the allocations process.